N41 degrees 56.118 minutes W 74 degrees 1.113 minutes
The following morning Mr. Plum had talked to his cousin on his Mother's side, who he has not met yet, and they were invited to have dinner with them and stay the night, the Plums accepted.
When they left the Niagara Falls area, the newly met cousin informed the Colonel of a military museum he should visit for potential information on their side of the family. The Colonel and America had a quick jaunt through Vermont to wind back into New York to locate this military history on Mr. Plum's paternal side, his great grandfather in WWI and three brothers in the New York National Guard in the 1880's. They traveled along the Molly Stark Byway complete with a covered Bridge built around 1729 and a "sugar house" where they refine sap before it becomes maple sugar. This part of Vermont still looks like it did in the 1700's. Mrs. Plum spied a roadside shop handling cheese and maple syrup, Mr. Plum obligingly stopped. A hand woven basket, cheese, maple syrup and an antique blue calico patterned pitcher went home with them. As they entered "Hogback Mountain Territory", America couldn't help gushing about the beauty of Vermont. They stopped for lunch in a café on Main Street in Bennington. There were great people with a sense of humor and fantastic food, America received an exceptionally well done poster advertising a local band that is more a work of art and plans on framing it for their wall at home.
Having went out of their way to visit the town of Petersburg for America's younger sister's family research project the Plums laughed heartily when their route brought them back through to research the Colonel's military history of his father's side of the family.
Arriving at the military museum the Plums found that proper procedure was to make an appointment and then ask for information. However a very kind receptionist asked a busy archivist if he could spare a bit of time for Mr. Plum's questions. He agreed if they could wait about 15 minutes, this gave America and her husband time to stroll through the displays. At 2:30p.m. They kept their appointment and were quickly disappointed, the gentleman did not have any information that the Colonel did not already have, but he gave some great advice on where to look further. The Plums head off this time to New Jersey, through another yet historic area, with dates around the 1670's that was burnt almost completely in 1777.
Send Your Answer - To The Above Clue T
o
:
keyboardjockey2@gmail.com
Click Here To Learn About The Game, Rules & Prize "The Plums Are Lost In The Past"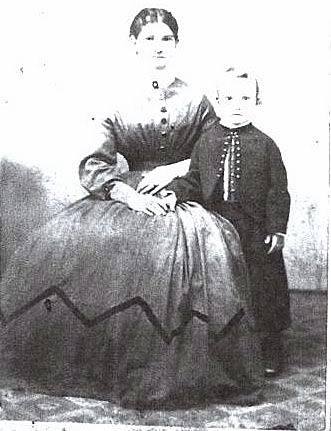 Dedicated to our Maternal direct descent, our Great Great Grandmother Louisa Sabin, born 14 February 1844, in
Petersburgh, Rensselear County, New York
. Louisa Sabin daughter of William Washington Sabin 1812 NY, and Louise Simmons 1815 NY. Louisa Sabin, and her parents, and at least one maternal grandmother Sally Simmons, removed to New Boston, Mercer Co.,Illinois, after 1845 but before 1850, where Louisa's mother would die. Louisa's father would remarry Nancy Jane (Wolf) Perry also a widower. Nancy Jane (Wolf) Perry, sister of Lucinda Wolf who married Gabriel Ernest Shaw, parents of Joseph Newton Shaw, who married Louisa Sabin in Eldora, Hardin County Iowa, where Louisa (Sabin) Shaw, died shortly after our Great Grandmother Laura Alice Shaw was born 1870 - Grandma Mac, styled because she married Ambrose Emerson McFarland. In the McFarland family bible are some old photos (SEE ABOVE) with no writing on them, but embossed with the photographer's stamp "New Boston" It's possible that these photos are of the Sabins and Simmons family, who resided in New Boston. The Shaws resided in Millersburg, Mercer County, Illinois. Millersburg is where Gabriel E, Joseph Newton, and his brother John Shaw, all enlisted in the Union Army during the Civil War. My Great Great Grandfather Joseph Newton Shaw was a Corporal, he and his father and brother's service records, all show special commendations, for their service during the Civil War. My Great Great Grandmother Louisa (Sabin) Shaw's brother Charles O Sabin, also served in the Civil War, from Mercer Co.,Illinois, he is buried in "New Boston Cemetery" Joseph Newton Shaw married 2nd, 18 November 1873 Worth Co., Missouri to Elizabeth Minerva Dowis. These families moved all over the Midwest, and Northwest, it seemed they could never stay in one place for long. Joseph Newton Shaw born 184o Washington, Marion Co.,Indiana, died in Cantonment, Oklahoma. Our Great Grandmother would tell stories about traveling in Covered Wagons, when she was just a little girl. They lived like Gypsies.
Fleetwood Mac "Gypsy"